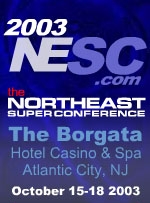 During October, 2003, Steven Rambam, Pallorium's Senior Director, was privileged to be invited to speak at the annual investigative "Super Conference". Mr. Rambam's seminar, on Foreign Investigations, earned him a nomination as "Speaker of the Year".






(Note: on November 3, 2003 the Speaker of
      the Year was announced, and Steven Rambam was advised that he
      had been awarded that prestigious honor.)
PALLORIUM, INC.
P. O. BOX 155 - MIDWOOD STATION - BROOKLYN, NEW YORK 11230 USA
TELEPHONE: (001) 212-969-0286 - TELECOPIER: (212) 858-5720
ELECTRONIC MAIL : pallorium@pallorium.com
---
Home / Investigations / Online Services / CD-ROM Products / Contact Us
---
THIS PAGE (C) 2003 - PALLORIUM, INC. ALL RIGHTS RESERVED.
steve steven rambam rombom rambaum Pallorium palltech PallTech investigation private detective missing person people finder peoplefinder steve steven rambam rombom rambaum Pallorium palltech PallTech investigation private detective missing person people finder peoplefinder steve steven rambam rombom rambaum Pallorium palltech PallTech investigation private detective missing person people finder peoplefinder steve steven rambam rombom rambaum Pallorium palltech PallTech investigation private detective missing person people finder peoplefindersteve steven rambam rombom rambaum Pallorium palltech PallTech investigation private detective missing person people finder peoplefinder steve steven rambam rombom rambaum Pallorium palltech PallTech investigation private detective missing person people finder peoplefinder steve steven rambam rombom rambaum Pallorium palltech PallTech investigation private detective missing person people finder peoplefinder steve steven rambam rombom rambaum Pallorium palltech PallTech investigation private detective missing person people finder peoplefindersteve steven rambam rombom rambaum Pallorium palltech PallTech investigation private detective missing person people finder peoplefinder steve steven rambam rombom rambaum Pallorium palltech PallTech investigation private detective missing person people finder peoplefinder steve steven rambam rombom rambaum Pallorium palltech PallTech investigation private detective missing person people finder peoplefinder steve steven rambam rombom rambaum Pallorium palltech PallTech investigation private detective missing person people finder Viel Julius viel lallier adalbert lallier nazi war criminal peoplefinder Viel Julius viel lallier adalbert lallier nazi war criminal Viel Julius viel lallier adalbert lallier nazi war criminal Viel Julius viel lallier adalbert lallier nazi war criminal 2003nesc.com the Northeast super conference superconference the northeast superconference October 15-18, 2003 Saturday Steve Rambam Foreign Investigations Rambam Pallorum PallTech palltech pallorium foreign investigations Steven Rambam 2003nesc.com the Northeast super conference superconference the northeast superconference October 15-18, 2003 Saturday Steve Rambam Foreign Investigations Rambam Pallorum PallTech palltech pallorium foreign investigations Steven Rambam