January 25, 2010
Beverly Hills -- Josef Franz Prach von Habsburg-Lothringen, the Prince of Austria, circulates in high society. He has been known to take meals with a retinue of body guards, prance about in a cape and he lives in a chic loft in Manhattan's trendy Soho district.
Josef Meyers is a former mental patient, flim-flam man and onetime accused cocaine dealer who grew up in a broken home in Beverly Hills, Mich., changed his name in midlife, abandoned his first wife and children for a second wife and children.
The twist here is that the Prince and the pauper are one and the same. And von Habsburg-Lothringen -- as Meyers is now legally known -- is one of the biggest deadbeat dads in Michigan, investigators say -- owing more than $250,000 to his first wife, whom he never divorced.
Warrants have been issued for his arrest on child neglect charges, but he continues to elude the short arm of the Michigan law.
It turns out that the Prince was, and may still be, a high-level informant for the FBI, according to law enforcement officials, court records and correspondence from the Department of Justice. His misadventures and lack of payment shed a thin ray of light into the murky world of the federal informant.
"I think the term con man applies here," said Sgt. Matt Norman of the Oakland County Sheriff's Department, who has pursued the Prince to no effect. "He's got a dozen aliases. He works for the FBI. And we can't touch him. I called the FBI a couple times on this and they never returned my calls. I mailed them a wanted poster. Nothing. Normally if a guy is working for the government we can put a withholding order on his paycheck. But obviously we can't seem to do that here."
Prince's work unclear
Born in Beverly Hills in 1960, Josef Meyers has compiled a record as thick as a Bible. Shortly after he turned 21, Meyers attacked his mother, after which he was committed to the Clinton Valley Center, a now defunct psychiatric hospital in Pontiac.
In 1987, he was arrested in a raid in Livonia, during which police confiscated two kilos of cocaine and an automatic weapon, but he was not convicted. It is about this time he began working as a top-level confidential informant for the FBI, according to federal documents. He started going by comic-book monikers like The Prince, Meyer Lansky and Rockefeller. He began speaking with an outrageous German accent.
"The FBI called me after that coke bust and asked if I thought Meyers would make a good informant," said Rocky St. Jean, a retired Beverly Hills cop who had numerous run-ins with Meyers, including the episode with his mother. "I told the guy I wouldn't trust a bonehead like Meyers to take out my garbage."
The Prince met his first wife, Marianne, in 1984. She asked that her last name not be published for fear of reprisals from strangers and ridicule from her neighbors.
Marianne said she believed Meyers' bogus German accent, his proclamations that he had graduated from Harvard and that he was in town from Europe to see the Grand Prix. They married two years later.
"I wasn't really sure what he was except that he was really charming and smart," she said. "He didn't tell me much about his background and I didn't really ask. It's uncomfortable to admit you've been tricked, but I began to learn quickly who he was."
It is unclear what The Prince did for the FBI exactly.
But the ruse started to unravel. Josef Meyers became paranoid, demanding that the blinds remained drawn. He was in and out of jail. Creditors came knocking. He was convicted of stealing and cashing a $100,000 check in 1989 from a business acquaintance. Meyers avoided up to five years in prison for the check kiting -- the sentencing guideline in Michigan -- as the judge took into his account his "situation with the FBI," according to court transcripts.
He was ordered to pay restitution.
While on probation for the bad check, Meyers legally changed his name from the pedestrian Meyers to the regal von Habsburg-Lothringen, despite the fact that Michigan law disallows a name change if you have been convicted of a felony or have been committed to a mental institution.
'He's an impostor'
Where Meyers came up with the von Habsburg name is a matter of conjecture. But members of the royal family say they have never heard of Meyers.
"He's an impostor absolutely," said Jerrine Habsburg-Lothringen, wife of the late and true archduke of Austria, Stefan. "This pretense he puts up, including the accent, must be magnificent."
The Prince walked out on his family in late 1993, as Marianne was in the hospital giving birth to their son Franz. The Prince missed the baptism of his son on Jan. 23, 1994, at St. Joseph Church in Detroit.
But Franz's godfather was there -- Richard Mazzari, a retired FBI agent who was von Habsburg-Lothringen's case handler. Department of Justice guidelines forbid agents from socializing with confidential informants, much less becoming the spiritual sponsor to their children.
"Rich was a friend," Marianne explained.
Mazzari did not return phone calls to his Ann Arbor home.
While Marianne was raising three children and making ends meet on government assistance and a disability check, the government continued to employ von Habsburg-Lothringen. He was in New York now, working on such capers as "Operation Uptick" and "Operation Wooden Nickel." In "Wooden Nickel," a stock manipulation investigation, he helped snare a New York lawyer and former Brooklyn assistant district attorney, Albert Santoro.
In a letter to the court, the U.S. Department of Justice confirmed that while in the employ of the FBI during the '80s and '90s, Meyers "sold counterfeit good(s); committed extortion; beat up at least one individual; used narcotics and assisted in the collection of debts owed from the sale of narcotics."
It is unclear if The Prince is still an employee of the FBI. "I can't comment at all on anything like that," said Special Agent Theodore Cicioppi of the FBI's New York office.
An interstate warrant was issued last March by the office of the Oakland County prosecutor, but when The Prince was arrested for a drunken late-night argument with his wife last year, he was inexplicably released by New York City police, though he should have appeared on a fugitive database.
A knock at the door of the Prince's Soho loft went unanswered last week. His lawyer did not respond to a message left with his receptionist. A bartender at a bistro across the street from his Soho apartment said Prince von Habsburg-Lothringen still lives in the neighborhood and occasionally hangs out at the rail for a pre-dinner aperitif.
In the meantime, a wanted poster of Josef Meyers hangs of the wall of the Oakland County family courthouse.
Dad who posed as prince charged
Police extradite man, claim he owes $200K in back child support
The Detroit News
May 29, 2010
Pontiac -- A man who posed as an Austrian prince was back behind bars Friday in Oakland County after he was extradited from New York on child support charges.
Josef Meyers, 50, who allegedly owes more than $200,000 to his wife and children, "is not a prince, he's the king" when it comes to deadbeat dads, Oakland County Undersheriff Michael McCabe said.
At a video arraignment in Pontiac's 50th District Court on Friday, Judge Cynthia Walker set a $75,000 cash bond on the four-year felony charge and scheduled Meyers' next court appearance for Tuesday before Judge Michael Martinez.
Meyers, who is also known as Josef Franz Prach von Habsburg-Lothringen and claimed he was a prince in the Austrian royal family, asked for a court-appointed lawyer, McCabe said.
"What an unbelievable case," he said.
U.S. marshals arrested Meyers on May 17 after they found him hiding in a bedroom closet in a New York City home. Meyers, who never divorced his wife in Michigan, was found in New York with another wife and three children there, officials said.
His history includes a stint in the former Clinton Valley Center psychiatric hospital in Pontiac in his early 20s after an attack on his mother, an arrest in a Livonia cocaine bust for which he was not convicted, a conviction for check kiting and a lengthy period as a paid FBI informant, according to court records.
David Case, an Oakland County assistant prosecutor, couldn't say Friday how Meyers ranked in terms of deadbeat dads in Oakland County.
However, "we don't see a lot of them over $200,000," Case said. "Most of them are in the tens of thousands."
---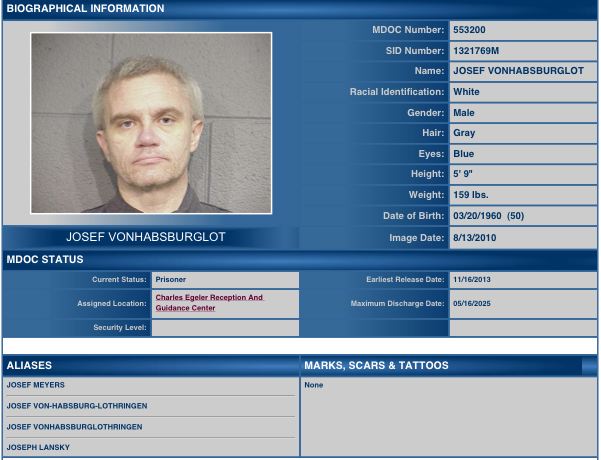 (Source: Michigan Department of Corrections - OTIS)
---
Deadbeat dad draws 3½-year prison term
Wednesday, August 11, 2010
The Oakland Press
A daughter of a man who abandoned his family and started a new one told him Wednesday that she only views him as a contributor of her genes.
"You're nothing to me," she said.
Josef VonHabsburg-Lothringen, a former Beverly Hills resident who has pretended to be Austrian royalty, was sentenced to 3½ years in prison for failing to pay more than $200,000 in child support.
According to prosecutors, VonHabsburg-Lothringen, who has also gone by the name Josef Meyers, abandoned his wife and three children in 1993 on the day his third child was born. He was tracked down in New York, where authorities say he lived a lavish lifestyle with a common-law wife and three new kids.
VonHabsburg-Lothringen, 50, was extradited earlier this year back to Michigan. He pleaded no contest in July to a charge of failure to pay child support.
At his sentencing hearing in Oakland County Circuit Court, VonHabsburg-Lothringen showed no emotion when his wife and two of his children told him how he's damaged their lives.
"This man has affected my trust of others, my sense of self-worth," said his 21-year-old daughter, who cried as she spoke in a quivering voice.
VonHabsburg-Lothringen's 19-year-old daughter said she always told people that her father was traveling, or that her parents were separated.
"You're a filthy excuse for a father," she told him.
VonHabsburg-Lothringen also has a son who is 16 years old.
Assistant Prosecutor Leonard Gorz told Oakland Circuit Judge Wendy Potts that he had never seen a case in which a man ditched his own family and then began a new family.
According to the prosecutor's sentencing memorandum, VonHabsburg-Lothringen married a woman named Marianne in 1988. On Sept. 5, 1993, the date of his third child's birth, he left.
With the help of family, Marianne VonHabsburg-Lothringen supported the children but ultimately ended up going on public assistance.

Private investigators working on a separate case involving VonHabsburg-Lothringen in New York

contacted her in 2006. The investigators then agreed to work on her behalf.
In December 2006, the family support division of the prosecutor's office filed a complaint against VonHabsburg-Lothringen. He failed to answer it, so a default judgment of support was entered in September 2007. Subsequently, he agreed to pay a total of $125,000 in three equal installments, of which $25,000 would go to the state's Department of Human Services and $100,000 to his wife and children.
Prosecutors say VonHabsburg-Lothringen made only one monthly payment.
According to prosecutors, VonHabsburg-Lothringen falsely held himself out to be a member of the Austrian Habsburg royal family since 1990. By the early 2000s, he had a lavish lifestyle that included a costly apartment in New York City's SoHo district, a "common law" wife with whom he had three new, private-schooled children and an expensive wardrobe.
Gorz said for many years, VonHabsburg-Lothringen claimed to be an assistant for a government agency. There was also a reference in court to him being an investment banker.
When she spoke during the hearing, Marianne VonHabsburg-Lothringen said her husband named his kids in New York after his children in Michigan.
Gorz, the prosecutor, told the judge that he would like VonHabsburg-Lothringen to receive a minimum prison sentence of 46 months, a figure that's at the high end of his sentencing guidelines. According to court documents, VonHabsburg-Lothringen's criminal history includes convictions of uttering and publishing, marijuana possession and forgery.
Defense attorney Josh West asked Potts to follow the probation department's recommendation of five years probation and five months in jail. He asked the judge to give VonHabsburg-Lothringen the opportunity to prove himself and pay the money back.
"If you do send him to prison, the court won't see any money whatsoever," he said.
When asked if he wanted to speak during the hearing, VonHabsburg-Lothringen shook his head and mouthed the word "no."
Potts sentenced him to 3½ years to 15 years in prison. She ordered him to pay $220,927.56 in restitution plus $3,674.05 for the cost of extradition.
Potts told VonHabsburg-Lothringen's wife and children that she hopes they get the money, but said there are never any guarantees. She also said she hopes with the sentence, the family can find some closure.
When asked after the hearing if she believes she'll ever see the money, Marianne VonHabsburg-Lothringen said if her husband gets out of prison, he'll just disappear.
"He's a coward," she said.